Growth Marketing Tips 101
Five hundred thousand! Yes, that's the number of new businesses that start in the United States each year. If that shocks you, here is another fact: Each year, businesses collectively spend over 200 billion dollars on marketing! Shocking, right? Due to these reasons, it is tough for businesses to stand out. So what is the solution? Well, your answer is hiring a good Growth Marketing agency.
Growth Marketing is a powerful strategy that helps businesses adopt innovative approaches and develop a unique plan that contributes to their growth and retains their existing customer base. Let us introduce this powerful marketing strategy elaborately:
What is Growth Marketing?
One of the new buzzwords in the new marketing ecosystem is Growth Marketing.
Have you realized that when a particular thing becomes saturated, and many people talk of it, it becomes mundane to the rest? Oftentimes, people start resisting knowing about it. Like so many did for Breaking Bad. It was ubiquitous, and almost everyone was discussing it. However, some of us felt like outsiders, and the feeling stopped us from watching it.
In reality, it is one of the best TV shows to have been aired. Our point is, just like BB made all the sensation in pop culture, growth marketing is making all the headlines in the new marketing era!
So let us be honest, traditional marketing became last season. Businesses today demand a holistic approach that can cover all marketing goals while staying within the budget. This is exactly what Growth Marketing covers! It will optimize the whole lifecycle of customers and search for new methods that keep customers engaged.
So yes, this is the reason why brands have adopted this new strategy. It helps them outsmart their contemporaries.
The process of employing multiple and quick experiments across different marketing channels and product development is called Growth Marketing. The strategy helps marketers identify the most successful ways of growing their business.
Simply put, it is an updated version of traditional marketing combined with new strategies, data, and technologies. This is what makes the Growth Marketing services providing companies so popular.
They are responsible for:
Monitoring areas to test and check the scope of improvement
Planning and designing tests for optimizing the identified ways
Conducting experiments to check the improvement hypothesis
Analyzing results and further conducting tests as need be
If you want a detailed guide on how to improve your growth marketing strategies, read the ultimate guide to enhance growth marketing strategies.
Anyway, a Growth Marketing strategy is based on a marketing funnel. The funnel is actually a series of steps that guides potential customers through the customer journey. It helps the marketing team devise a plan and calculate efforts for attracting, engaging, and converting potential customers via marketing strategies like content, ads, landing pages, etc. How? Let us simplify that for you.
What is a Marketing Funnel?
The marketing funnel is made on the basis of the 'AIDA' model. AIDA means:
A- Awareness
I- Interest
D- Desire
A- Action
For better understanding, it is simplified into a 3-stage model:
Top of the funnel (TOFU): Awareness
Middle of the funnel (MOFU): Consideration
Bottom of the funnel (BOFU): Conversion
Unlike how it sounds, they are not insults or slang, nor is it any hip language acronym. Instead, it is a shorthand for a method called customer journey. Understanding each term will only help you attract and retain more consumers.
Let us discuss each stage in detail for better understanding: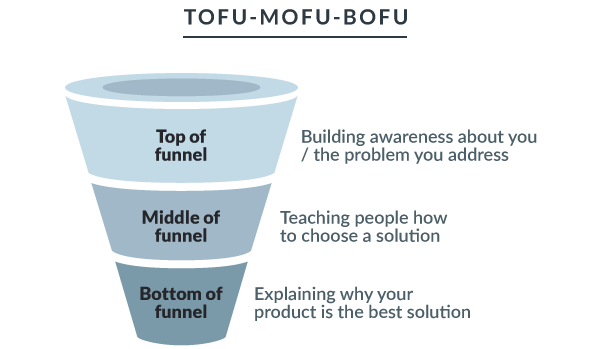 Top of the funnel(TOFU): Awareness
In this stage, a potential customer gets to know about a particular business and interacts with it for the very first time. Since they might not have a prior idea about the business's service or product, this stage is usually focused on content and other marketing activities that help brand awareness.
This is a research-driven phase, so the visitor would probably be looking for information and answers. It is usually in the form of "I am facing a problem and want possible solutions." Oftentimes, people simply research their interest or hobby passion, favoring content that informs or entertains them.
Or, perhaps, they might have come across something online that instantly piqued their curiosity. The reasons can be many as to why they began searching for something online. Simply put, various people search for various reasons with various types of search intentions.
You, as a brand, can leverage this stage to your advantage by showing what you offer and attract prospects. During this phase, your role is to offer them entertaining or informative content.
These are some of the ways you can accomplish this:
Make infographics or a landing page that will introduce the visitors to your brand, service, or product
Use social media to post content that showcases your unique selling proposition (USP)
Leverage paid ads on social media platforms relevant to your target customers.
When you do the above, you might introduce your services or products as a potential solution, position your business as a useful resource, and fortify your dedication to the visitor's interest.
Did you know that the top-funnel visitors represent quite a broad audience? However, many of them won't have an instant requirement for your services or products, so naturally, in this phase, conversions will be the lowest.
Middle of the funnel(MOFU): Consideration
A prospect enters the middle of the funnel(MOFU) after having an interaction with your brand in a good way, such as signing up for your webinar, subscribing to your email list, or following you on social media.
A MOFU visitor has defined their issues, narrowed down their solutions, and now considers your brand as one of the possible options. As most TOFU visitors drop out of the funnel, this stage is a representation of a smaller and more refined slice of prospects.
It is because these prospects are aware that you offer a solution and thus express interest in knowing more. So you must give them as many details as you can, helping them make a final decision.
You can leverage this stage to engage with them and earn their trust. This is what will set your brand apart from others. You can:
Publish a white paper or an article that will give insight about your brand, answers question, and solves a problem for your prospects
Conduct a survey for visitors to get an idea about the drivers, hooks, and barriers they come across with your brand
Create case studies and product comparisons
Make landing pages that are individual customer-oriented
Since the visitors in the MOFU stage are still in their research phase, it is crucial for you NOT to oversell your service or product. Rather, you can give them the details they need to take the following step and become useful by addressing all the questions in their minds. So, this stage is about empowering the visitors, allowing them to decide.
Bottom of the funnel(BOFU): Conversion
Before prospects convert into full-fledged customers, they enter the last stage at the bottom of the funnel (BOFU). By now, you must have attracted their attention, won trust, and built a relationship with them. So, use this step to convert them into buyers by offering them reasons why they must choose you over your contemporaries.
In this stage, the leads are most refined and highly qualified and on their way to making a buy. Since they have committed to sticking with your brand through the first two funnel stages, these leads become your smallest and most lucrative list of potential customers. All they need is an extra push. It can be extra urgency, extra reassurance, or extra incentives.
You can achieve it by:
Providing a demo test so the visitors will know how your product or service is
Publishing an article or post a video on a how-to guide to address all the queries prospects might have and eliminate any doubt
Building trust by sharing testimonials, and social proof, like customer reviews
For convenient access and understanding, sharing features and price comparison charts
Sendung them segmented email marketing campaigns and employing on-site surveys. It can send an email to people who have exited the survey on the checkout page or those that have abandoned their shopping cart.
Out of all the three stages, overselling is most suitable during this stage. However, it is always a good idea to take a consultative approach, thereby helping the lead make a decision. For example, rather than convincing the lead to buy the product or service from you, assume they are buying it and tailor the purchase, catering to their requirements.
Clearly, BOFU is all about setting your business apart from all your competitors by converting qualified leads into buyers.
Efficiently following all the stages will help in your growth marketing strategies. So now, let us get on with some of the time-tested tips that will help you grow your business:
Grow Your Email List with Exit-Intent Popups (Tofu)
Exit-intent technology is a part of the TOFU phase. You can use this strategy if you want to make one last attempt to convert a prospect before they leave your website. You would be surprised how it impacts visitor decisions!
When visitors witness a pop-up while leaving your website, most of them actually respond to your offer. There are several benefits of exit-intent pop-ups.
The application of this technology combined with lightbox gates, full-screen welcome gates, or other option types can help brands convert abandoning visitors of the site into new email subscriptions. In addition, it will give the users one last opportunity to consider subscribing to your newsletter before they leave. This way you can keep them informed about your latest offers and discounts.
Exit pop-ups are functional for mobile users as well. There are two ways of showing exit messages on mobile devices.
You have two options for showing exit messages on mobile.
When the user scrolls up on the screen, you can trigger a mobile exit pop-up
or
When the user clicks on the back button on their mobile browser, it triggers the exit pop-up.
Include Quizzes and Polls on Your Website (Tofu)
Do you want to connect with your audience in a personalized manner? Creating interactive content will help you with that, and putting up quizzes and polls on your website is one way to achieve it. You ask questions, and your audience replies, as simple as that.
Take a step further by scoring them or providing them personalized feedback after the quiz ends. When you do this, you begin an interactive conversation with your prospects.
Since the inception of the Internet, quizzes and polls have been used. However, making it from a marketing perspective will help you convert the prospects into a buyer. You can do the following for creating interactive quizzes and polls:
Begin by making a goal for using quizzes or polls for your content. It can be creating content for TOFU, growing email subscription lists, increasing leads, or wanting to bring in new traffic.
Make a decision about the kind of quiz or poll you will go for. Some of the most popular picks include matching quizzes, personality quizzes, or knowledge tests.
Come up with a creative headline. According to a study, 59% of people share content seeing its title alone without giving it a read.
List down all your ideas and turn them into a ready-to-use quiz.
For getting extra interaction, you can incorporate a timer or leaderboard. When you create a sense of competition, people tend to retake the quiz until they get a respectable score.
Deliver Targeted Lead Magnets (Tofu)
Coming up with quality and useful leads is a challenge and demands businesses to offer users something valuable in return for their contact details. So today, marketers are consistently trying to come up with innovative lead magnet ideas for attracting customers and turning them into prospects.
Before creating a lead magnet, one of the most important factors you must consider is knowing your target market thoroughly. A good lead magnet will help you promote your brand, provide an incentive to customers, and should never involve any extra costs. To get quality good lead magnets, you must:
Identify your buyer persona
A buyer person represents a fictional profile of an ideal customer. As a brand, it is important to stay aware of your target audience's preferences, problems they come across, and what are their expectations of your business.
Determine a value proposition
Identify what content will best resonate with your audience. It can be a quick course, useful metrics, a comprehensive industry report or a how-to guide for your product/service. The value proposition you have is directly proportional to the number of lead generation.
Of Course, your marketing campaign will have a name. The catch here is to give an appealing and relevant title that the audience will instantly resonate with.
Choose a lead magnet type
Now you can identify the type of lead magnet best suited for your business.
Come up with an interactive lead magnet that will quickly attract an audience and pave the way for them to subscribe to your email list. Note that you must always prepare a lead generation strategy that is easy to understand, prioritizes quick consumption and is focused on your brand's strengths.
Share a Free Tool or Download (Mofu)
We all know how time-intensive it is to come up with an in-depth download or build a tool. However, it is worth all the effort you put in. It has become one of the most successful strategies when it comes to B2B Growth Marketing strategies.
Oftentimes, the sales team has a hard time calculating their cost per lead precisely. While numerous calculators are available at their convenience, they miss out on important data like landing page software, cost of content, and many more aspects. A good growth marketing company can come up with its own calculator and help users who find it tough to get leads.
Video Testimonials and Case Studies (Mofu)
When you want to build your brand's credibility and convert leads, one of the most powerful tools you can have is client testimonials and case studies. According to a study, 79% of the Internet content is expected to be made of video content, which speaks volumes about the power video testimonials possess. Thus, incorporating video testimonials and case studies into your site is a wide growth marketing strategy.
Having said that, just a quick review of 'Love your product/service' won't be enough for this middle of the funnel user. A visitor visiting your website wants a comprehensive and detailed analysis of how good your product/service is. Case studies and video testimonials give them the clarity they seek when it comes to your brand's offerings.
Expert Guides that Solve Customer Issues (Mofu)
When people are in the middle of the funnel stage, they tend to look for solutions. Apart from sharing tools for free downloads, you can consider different ways that will help them solve their issues.
When you offer them an in-depth guide or expert-level training, it will help your visitor know what you are talking about. An expert-level content explaining your product/service and addressing the issues they are facing will build trust. Thus, the visitors are more likely to trust your brand to solve even bigger issues.
Follow up with Companies that Visit High-Intent Pages (Bofu)
If you think that website traffic is an indication of high intent to buy, you are wrong. For example, if a person visits your home page, they might have just heard about you or clicked a random link from social media. However, if you see people visiting your other pages, such as the demo or pricing, it indicates that leads are much closer to making a purchase from your brand.
From here on, your sales team can develop a customized pitch or answer a visitor's questions. This follow-up will help the visitor become more sure about the purchase.
Share Comparison Sheets (Bofu)
At the BOFU stage, the users usually compare different options before buying. They do it taking several aspects into account, like customer reviews, features, pricing, and support options. This process can be overwhelming, given that so many parameters can be compared.
Sharing blog posts or comparison sheets can make this process easy for them. The comparison sheet will list down all the differences between your brand and your competitors.
It is not the time to boast about your achievements or ignore your shortcomings. Instead, you must utilize the time to explain what you provide and how it will help your audience. Be honest and clear with your intentions.
Be Direct About Pricing, features, etc. (Bofu)
Typically, B2B businesses use a custom pricing plan. So, the users get in touch with them for a demo test before they tell about the pricing of the tool. Since cost is not much of a factor in B2B businesses, it is a good idea.
However, not being clear about features and pricing will leave you losing leads. So, always ensure that the users have all the information they need to make a final decision.
Having said that, you don't have to limit what you offer to two or three plans, but you can, at the very least, offer leads with a PoC for a better purchasing experience.
These are the best Growth Marketing tactics that you can employ to gain customers.
Our Concluding two-cents
Today, with so many brands coming up now and then, businesses that fail to cater to the dynamic requirements of the market won't be able to withstand the disruption. Since we live in a time where customer requirements and market dynamics evolve continuously, businesses must be quick to adapt to changes. If you fail to do that, we have the best solution for you. LeanSummits helps businesses achieve a transformation when it comes to running business smoothly.
By collaborating with industry leaders, Lean Summit Solutions addresses all their pressing business challenges and offers them the most promising solution. We are a growth marketing company that has pioneered in devising business strategy. Try us today.